200 HOUR TEACHER TRAINING


INVERSION WORKSHOP – FEAR IS A LIAR with Emily  Location: Yoga Loft Chicago
 

Sat 

 11/5/2016   

From:

1:00 pm – 3:30 pm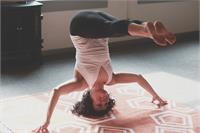 Come join us in this approachable workshop and learn why Fear is a Liar!
In many instances fear is a vital response to potential physical and emotional situations. On our mat, potential is a key word. It is a response to something that has not happened and quite simply may not happen. Many people fear the unknown, fear being upside down. Here fear is just simply a liar. By using breath, and practicing weight bearing, flexibility, and strength building postures with patience and consistency, the ability to defy gravity and reap the benefits on an inversion practice opens. Liberating the practitioner perhaps not from fear but from the reaction to it. Emily brings over 15 years of acrobatics, dance, partner acrobatics, and yoga into a two hour class that will explore the fundamentals and intermediate variations of handstand, forearm balance, and headstand. Some inversion experience will be helpful.Nov 5th 1:00-3:30pm
Cost: $30, $25 in advance   SIGN UP
ZEN VINYASA DONATION CLASS-BENEFITS VETERANS for Veterans Gratitude Week The Zen Vinyasa class brings mindfulness awareness to the body by linking breath to movement while building core strength. Suited for those new to yoga and those in need of grounding and calming their minds.
Bio: Kuniko is a certified yoga teacher in RYT 200, Yin Yoga and Mindful Resilience for Veterans with PTSD. She has found yoga and the mindfulness meditation to be a powerful tool to cope with stress induced chronic illnesses. She invites those curious about yoga to try her class as a gateway to yoga.
Cost: $15 Donation
INDOOR BOOTCAMP with Tim
 Saturdays 11:00am
BOOTCAMP:  Come join us for our indoor bootcamp series! Have a blast and get in shape fast! A fun, sweaty circuit-based challenge awaits you every time. You will be led by Tim, our certified personal trainer through a series of movements including jumps, squats, holds, kicks, combinations, and surprises for an exhilarating workout. We will get to know other participants and support our goals together. Lose fat, gain lean muscle mass and feel alive!   SIGN UP